» High performance penetrating water absorption inhibitor "Heritage"
Characteristics of "Heritage"
"Heritage" replaces the moisture of the stone and concrete with high penetration force and gradually forms a waterproof layer. We applied the action of decomposing water inside alcohol tank, also used for car gasoline tank, to "Heritage". This alcohol also has a disinfecting action, it also raises the deterrent effect of moss and mold. Because it is alcoholic, construction at subzero is also possible. It has long-term protection function and is ideal for conditions that do not change the texture. In addition to "Heritage", there is "Heritage ・ Plus" which is liquid and dry quickly, has strong water repellency, and a waterproof protective agent "Heritage Hard Coat" to make the surface glossy. "Hard coat" forms a coating film, it is hard to scratch, paint and others are added, and light coloring expression is possible.
【Movie】Heritage
"Heritage" experiment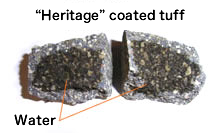 "Heritage" was applied to tuff which had been divided in half, and one day passed. Drop the water with a dropper. The penetration water repellency is about 5 mm.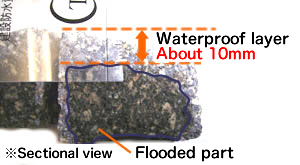 Two days passed. Hydrolysis is progressing.
A waterproof layer is formed nearly 10 mm.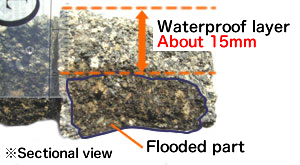 Three days passed. Water repellent part is spreading considerably. A waterproof layer is formed near 15 mm.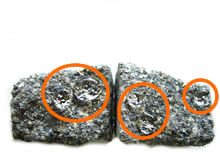 "Heritage" 5 days passed after application. Hydrolysis progresses to the whole, water droplets become balls, you can see that it is repelling water.
"Heritage" 7 features
1. Penetration

Osmotic force of 10 mm or more against the mortar version with penetration force of 15 mm or more applied to tuff (coating amount 350 cc / m2 twice). (Coating amount 250 cc / m2 applied twice) Granite and marble can be processed. High strength concrete can be processed (60 N / mm2 class is also possible)

2. High durability

Formation of fluorine silicon by polymerization of durable alkyl silicate and fluorine. (As a representation it is not a water repellent but a waterproof agent.)

3. High versatility

It can handle all inorganic building materials such as stone, tiles, bricks, concrete secondary products, etc. It can also give effects to wood, fabrics, paper and so on. Effective for deterioration protection of concrete by joint use with our HydroSky SKY-SP.

4. High water absorption prevention power

Due to its high permeability, special hydrophobic groups are formed deep into the substrate. Moreover, it ensures moisture permeability.

5. High workability A

high permeability, special hydrophobic groups are formed deep into the substrate. Moreover, it ensures moisture permeability.

6.High workability B

Utilizing high penetration power, construction can be done even on a wet surface. Substitute with moisture and penetrate into the interior to form a waterproof layer.

7. High workability C

Fluorine silicon oligomer having high permeability polymerizes to form a waterproof layer. Further, cohesive force is imparted to the base material to strengthen the base. It is also effective as a reinforcing toughening agent. (Some products)
Viscosity
10 cp or less
Specific gravity
0.91
Appearance
colorless transparent ~ light yellow transparent
Solvent
IPA
Curing method
Moisture hardening
Adaptation field
Gloss granite, Marble, Tombstone, High strength concrete, Concrete secondary products, Ceramic siding etc. General water absorbing inorganic building materials in general,